Activins are soluble circulating factors belonging to the Transforming growth factor (TGF)-beta family. They play a key role balancing cellular responses induced by other family members, such as the TGF-bs and the Bone morphogenetic proteins (BMPs). Genetic mutations in specific membrane kinase receptors disrupt Activins activity and function, thereby contributing to cancer, cardiovascular and musculoskeletal disorders. Unfortunately, therapeutic systemic inhibition of Activins results in undesirable side effects. Noteworthy, accumulated knowledge suggests that the expression of Activin in TGF-b -genetic diseases is induced locally rather than systematically, in tissues subjected to strong mechanical forces and hypoxia. Identifying the microenvironmental conditions disturbing the Activins activity will allow us to develop tissue-specific therapies to normalize aberrant Activins, thereby minimizing systemic side effects. Furthermore, it will provide necessary knowledge to understand tissue-specific determinants of Activin signalling, therefore facilitating the identification of biomarkers.
To understand how Activin expression and signalling are regulated in response to mechanical forces, in MACHINA we will use an ultra-rare monogenic uncurable musculoskeletal disease, named Fibrodysplasia ossificans progressiva (FOP). Patients with FOP carry an heterozygous gene point mutation in the BMP type I receptor ALK2 causing an histidine to arginine mutation (R206H). This mutation, which is expressed ubiquitously, turns the ALK2 receptor responsive to Activins, inducing downstream SMAD1/5/8 signal transduction. Aberrant Activin signaling in FOP drives the differentiation of soft connective tissue (e.g., tendons, ligaments, fascia) into bone. Moreover, patients with FOP display a number of secondary symptoms (i.e., cardiac conductivity issues and arrhythmia, vascular leakage and edema, hypertension, neurological disorders). Unfortunately, still nowadays there is no validated cure for FOP, and the most advanced clinical trials have been prematurely interrupted due to lack of efficacy or toxicity.
Drug development in FOP has been partially hampered by the lack of humanized models of the disease, as the expression of the mutant ALK2 R206H receptor causes embryonic lethality in mice, and strategies based on postnatal tissue-specific expression of ALK2 R206H do not fully recapitulate the disease phenotype in patients. In MACHINA we will use patient-derived induced pluripotent stem cells to generate disease relevant cell types in combination with advanced 3D organ-on-chip models to investigate the impact of mechanical forces and hypoxia on Activin signalling. We will create the first humanized FOP-on-chip mechanically resembling bone lesions in FOP, and validate it with pharmacological agents already characterized in mice, targeting different steps through the Activin-ALK2 pathway. With this project we will create an unique FOP-on-chip platform to allow interrogating Activin signalling within a tissue microenvironment, thereby serving as a reliable testing platform for efficacy and toxicity of investigational drugs. Furthermore, this platform will be highly tuneable and able to be adapted to other diseases caused by aberrant Activins.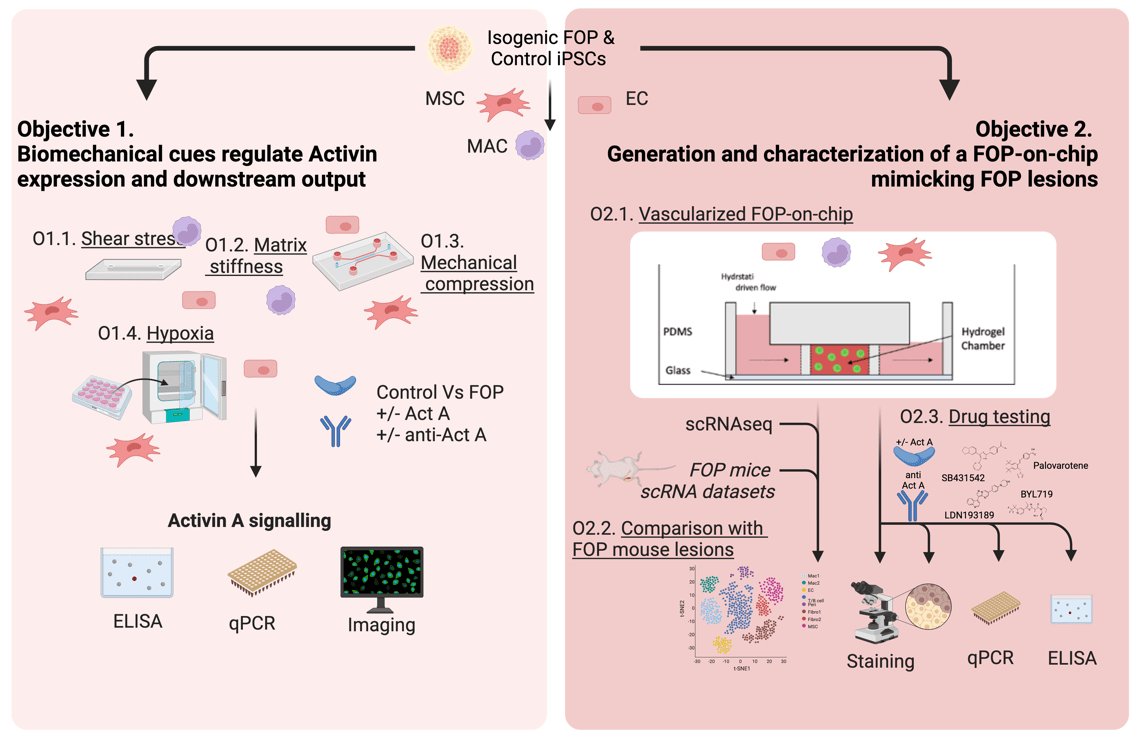 Project Code: PID2022-141212OA-I00
Duration: 2023-2026
Funding: 311.758 €
PI: Gonzalo Sánchez Duffhues
Funding
Spanish Science and Innovation Ministry